Thank you so much for all awards
we really apreciate it
Of Fazenda dos Amigos da Vida
Fila Brasileiro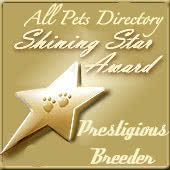 Awarded For..
Stunning fila brasileiro Website Design and Functionality.
A Useful and Unique fila brasileiro Resource
Great Writing and/or Informational Quality

Helping the Preservation and General Well Being of The fila brasileiro Breed.

Having a Happy Feel and Style To Your fila brasileiro Site.
Dogs.net proudly awards

Only given to
Cool K9 Websites!


Only given to
Cool K9 Websites!

Eva Dengler

Pet-Health.org proudly awards this pet website the Awesome Pet Website Award! Please join the Pet Health Forums, or visit the Pet Health Directory, or shop for pet products!
Awarded by: Next Day Pets
Dog
WebMaster Award
My
Pet
Outlet
I-Love-Dogs.com proudly awards this dog site! Please upload your dog pictures, dog videos or visit the dog forums!